meet adam and eric
meet adam lowry and eric ryan, proud brainparents of method® and the very first people against dirty®. despite founding one of the fastest-growing private companies in america, and single-handedly turning the consumer-packaged-goods industry on its head, these two former roommates are quick to tell you that they're no heroes. and that's true. they're super-heroes. and like every great superhero, they gained their powers after being exposed to toxic ingredients. cleaning supplies, to be precise. but rather than turning them green or granting them the ability to talk to fish, eric and adam's toxic exposure gave them something even better. an idea.
eric knew people wanted cleaning products they didn't have to hide under their sinks. and adam knew how to make them without any dirty ingredients. their powers combined, they set out to save the world and create an entire line of home care products that were more powerful than a bottle of sodium hypochlorite. gentler than a thousand puppy licks. able to detox tall homes in a single afternoon.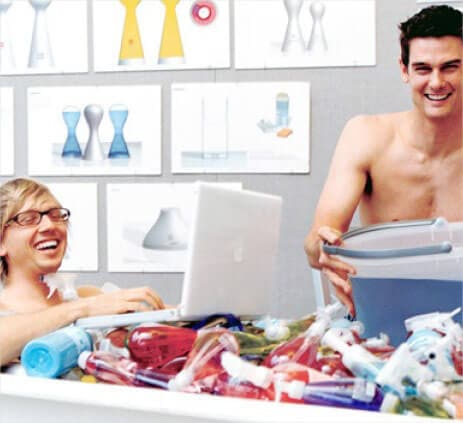 2000
eric's wondering why cleaning products are so poorly designed, and adam's dreaming of green cleaners that actually work and aren't stinky. together, these two childhood friends come up with an idea to revolutionize the cleaning world with stylish, eco-friendly products.
2001
method is born and eventually lands its first sale: four cleaning sprays to Mollie Stone's grocery store in burlingame, california. note method's primitive early invoicing process, held by adam. also note tie worn by adam. both items have improved over time.
2002
after enlisting designer karim rashid to help design packaging, method convinces Target to test its cleaning sprays and dish soaps in 90 stores. seven months later, method launches in Target stores nationwide.
2003
method debuts its first hand wash in the brand's iconic teardrop-shaped bottle.
2004
method launches the first triple-concentrated (3x) laundry detergent in the US mass market.
2005
method launches in the UK + Canada.
2006
Inc. 500 ranks method as the 7th fastest growing private company in America. and eric + adam are named PETA People of The Year.
2007
method becomes a founding B Corporation formally making social and environmental change a company objective.
2008
method begins making bottles from 100 percent post-consumer recycled plastic. g'day mate. method launches into Australia.
2010
method launches method laundry detergent with smartclean technology® a powerful, patent-pending, plant-based detergent that's 8x concentrated and packaged in a handheld pump bottle. say hello to our little friend at methodlaundry.com.
bonjour + konnichiwa! method launches in France and Japan.
2011
adam + eric write the method method. business will never be the same. method celebrates 10 years in business, with thanks to everyone who made it possible.
2012
method ties the knot and joins forces with Ecover to create the world's largest green cleaning company.
2013
method reincorporates as a public benefit corporation, codifying that its corporate governance meets the highest standard of social and environmental ethics.